Brian Pogson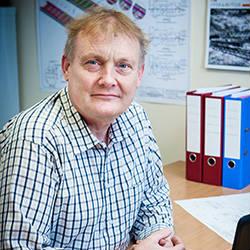 Brian is a pragmatic and resourceful problem solver with a love of engineering and ingenuity. In 2011 he established Exeter Fabrication Ltd which specialises in structural steelwork and aluminium.
A commercial fisherman for 22 years Brian also has extensive knowledge and a passion for small commercial boats. He has over a decade of high quality boat building experience and established our sister company Exeter Maritime Services (EMS) in 2013 to specialise in the building of commercial aluminium vessels up to 38m in length and marine construction projects.
The skill-sets of both companies complement each other and they often partner on marine construction projects. The successful installation of the River Clyst Cycle Bridge for example, which was wrought with complications, hinged entirely on Brian's combined maritime and engineering knowledge.
Julie Pogson
Coming from generations of engineers, Julie is passionate about British manufacturing and British-made products. A champion of the local workforce, she believes that Devon has some of the best skilled craftsmen in the country and is proud of what they manufacture at Exeter Fabrication Ltd.
Julie has decades of commercial experience within the financial, manufacturing and maritime industries. She has a precise focus and discipline around systems, planning, procedures and scheduling to ensure both businesses work effectively, efficiently and to the highest standards.