Published: Wed 10th Dec 2014

Constructing Excellence Award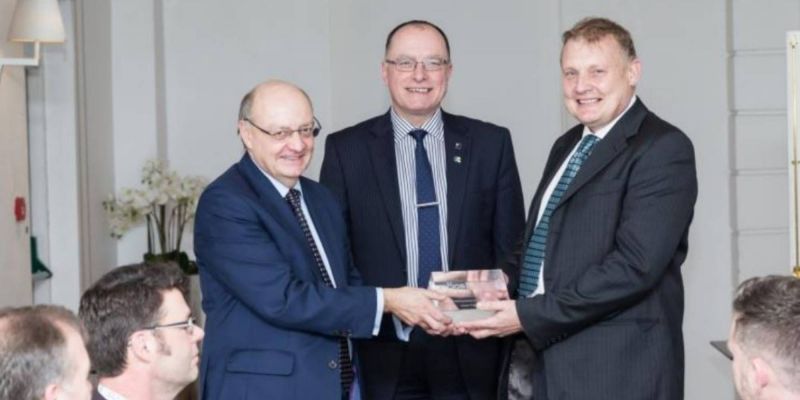 Exeter Fabrication business presented with Special Industry Award by Constructing Excellence South West.
Exeter based business Exeter Fabrication Ltd have been awarded the 'Chief Executive's Special Award' by Constructing Excellence South West (CESW), the first time this award has been given.
CESW is part of the Constructing Excellence Regional Network and exists to improve industry performance in order to produce a better built environment.
The CESW 'Chief Executive's Special Award' is part of the Chartered Institute of Building's prestigious South West Built Environment Awards which recognises industry performance. It has not been awarded before and is in recognition of the innovative work undertaken by Exeter Fabrication for the installation of the River Clyst Cycle Bridge and boardwalk at Topsham, for Devon County Council.
The award was presented to Brian Pogson, Director of Exeter Fabrication Ltd, by Peter Hansford, Government Chief Construction Advisor.
Brian Pogson, Director of Exeter Maritime Services, said: "I am really pleased Exeter Fabrication has been recognised with this special industry award.
"We are uniquely positioned to deliver on this type of project; we have the ingenuity, technical knowledge and team to pull it all together." The installation of the River Clyst Bridge was a high specification project to install a new 114m, 3 span bridge to extend the Exe Estuary National Cycle Route.
It presented multiple challenges: the site is in an RSPB reserve with high potential for environmental damage and the site consisted of soft ground; furthermore, the Exmouth.Exeter railway bridge was in very close proximity. It was logistically impossible to get a large enough crane with significant reach by road and it would have required the train line to be closed creating significant disruption.
Exeter Fabrication's innovative solution was to float the bridge spans to site along the Exeter Ship Canal. Working with Axminster Excavators they constructed a specialist bespoke hydraulic lifting platform built to install the bridge from the waterway, maximising the opportunity presented by the spring tides.
News Archive
No Articles to Show